One of our consultants on DUST, our NSF-funded Alternate Reality Game, is Woodruff ("Woody") Sullivan, an asrobiologist at the University of Washington. I first encountered Woody's name back in c. 2010 when I happened upon the eerie 1991 Department of Energy report on how to warn civilizations 10,000 years in the future about the hazards of radioactive waste. One of eleven or so expert panelists on the project, Woody and his team produced a series of extraordinary architectural landscape designs that, in the intervening years, have circulated widely on the internet and achieved a kind of cult fame.
One of the things Woody has stressed in our discussions with him about DUST is how important it is for teens to learn how to tell biographical stories–or call them "process stories"–about physical things found in the natural and artifactual worlds, such as rocks, ravines, stars, buildings, and monuments. What can we infer about the genesis, transformation, and decay–about the temporality–of the things we encounter? What clues in their current states or configurations can help us conjecture  about their past or future lives?
Inspired by these conversations, we've introduced two long-term thinking activities into DUST: "Your House or School in 100 Years" and "Message to the Future: Across 10,000 Years." A third activity–"Design Your Own ExoPlanet"–is coming soon. Although these are geared toward teens 13-15 years old, anyone registered for the game can submit entries (but you only have two more days left if you want your design considered for inclusion in Woody's office!). We've used one of our in-game characters, Violet, to establish the fictional exigence for these activities: Violet is a precocious 15-year-old girl whose astronaut parents both collapse on board the International Space Station when the story opens. Feeling betrayed by the formal educational system that has left her and her friends unprepared for the epic challenges that now confront them, Violet decides to design an alternative curriculum for teens that will help them solve the mystery at the heart of the story: the worldwide collapse of adults who fall into a sleep-like state in the aftermath of an historical meteor shower that disperses dust into the earth's atmosphere.
We'll be selecting two player submissions whose work will be hung on the wall in our 3D panoramic model of Woody Sullivan's office. One of three such game environments created using the Unity Game Engine, the office environment allows players to rummage through Woody's papers, access his computer files, and study other artifacts in the room for clues. We've already included one creative reinterpretation of "Spike Field" on the wall (see the original design here for comparison), based on one of the concept designs in the Department of Energy report (the reinterpretation was done by a talented undergrad student, Terrell Carter, in our Transmedia Fictions course).
To submit your own entry, point your browser to fallingdust.com and register for the game.
Here's Violet's in-game post with links to the activities:
 When I was a little girl, I used to love to sit at my Mom's desk pretending to be a grownup, rifling through her papers and typing at her computer. For as long as I can remember, she kept a snow globe in the corner of the desk that I would shake every time I came in. It wasn't just any old cheap plastic globe: it was Saturn suspended in there, the little white flakes swirling peacefully around its rings. My Mom used the globe as a paperweight to pin down a creased, slightly stained scrap of paper with a quote from John Updike, one of her favorite authors: "All around us, we are outlasted." "Outlasted by what?" I asked "the moon and the stars?" "The moon and the stars," she said, "but also the snow globe, the books on the shelves, the chair that I'm sitting on. Little things as well as big things, human-made as well as natural."

I thought about that and tried to imagine the snow globe in 50 years. It would no longer sit on a desk, I decided, but be buried in a landfill. A trash compactor would have squashed it, causing the liquid to leak out, and the fake snowflakes would have seeped into the ground. I wondered if the liquid were poison. And if someone dug up the flattened globe after 100 years or 1000, what would it look like then?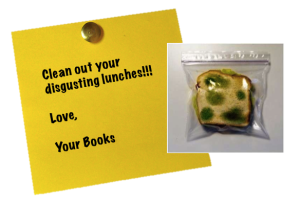 It was hard to think about something I owned surviving that long, and changing as the decades and centuries rolled by. It still is. At school Mike Sanchez recently taunted me about the moldy sandwiches that I never eat accumulating in my locker. "Clean out your disgusting lunches!!!" he wrote in a note stuck on the outside of the locker. "Love, Your Books ." The three weeks it took for those PB&Js to go from edible to puke green were the longest amount of time I'd entertained in a while when it came to my own stuff.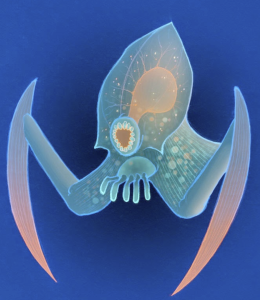 And now here we are, more than three weeks into The Collapse. We still don't know exactly what happened, or why, or how, but it seems increasingly clear the meteorite was carrying microscopic stowaways hailing from an exoplanet millions of lightyears away. @Deehob has a hunch they were put there by an alien civilization, and I think he may be right. I've been having nightmares about the microbes. I know it's crazy, but in my dreams they were shooting little sleep-inducing darts into the unsuspecting adults, laughing maniacally. Maybe they were feeling punchy after having weathered uv radiation and the vacuum of space for thousands of years.
Then last night the dream changed. Gone were the tranquilizer guns; instead the microbes began gently sprinkling fairy dust into the eyes of the grownups. It danced and swirled in the air, like the flakes in the snow globe, and formed the same beautiful fractal patterns we saw before. And as I watched, I thought I glimpsed something intentional in the patterns—something older than the moon and the stars. Something primordial.
All around us, we are outlasted.

Guys, if we're going to solve this mystery and save the adults, we have to learn to think at ginormous time scales, even if our puny little brains rebel. So welcome to Vi's Boot Camp 101: Long-Term Thinking. We're going to ditch the lectures and do things a little differently. Let's get started.
Exercise 1: Your House or School in 100 Years
Exercise 2: A Message to the Future: Across 10,000 Years

Exercise 3: Design Your Own ExoPlanet: Coming soon!